While your home roof is a fundamental structure, smaller pieces make up the entire system. Most have never heard or even know what these are. So, please read on as we dive into the soffits, fascias and guttering guide.
What Is a Soffit, Fascia and Gutter?
If you're heard the terms gutter, fascia and soffit but you're unsure of what they are, we're here to provide you with a better understanding of them. In essence, all three of these items play a huge role in your roofing system. For better words, they ensure that your home is always dry and free of pest while looking aesthetically pleasing.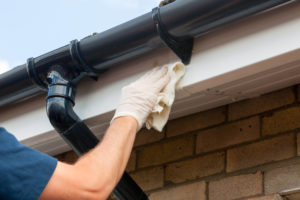 When your soffits and fascias are glimmering, your home becomes even more attractive to potential buyers and your real estate agent if you're planning on selling.
Giving your home a makeover for these purposes is recommended and is always an excellent investment. So, if your fascias and soffits are worn out, it might be time to have them replaced.
When you replace them, you'll be able to protect your walls and roof further as you prevent water damages. As previously mentioned, ornate facias and new gutters will significantly increase the value of your home and impress anyone that comes your way.
What Is A Roof Soffit?
The roof soffit is located in the middle of your adjacent wall and your roof's outer edges. Its main job is to seal and protect the rafter feet.
However, it should be noted that not all roofs have soffits, but if your home does have one, you'll be able to notice it. If you're interested in checking, you'll need to stand below the overhang and look above.
Since the roofing industry has come such a long way, most modernized soffits are made from uPVC. Unlike the materials used in the past, uPVC fascias and soffits can withstand a great deal of moisture.
In the past, wooden soffits were very popular but eventually rotted at an alarming rate. Due to rotting, the overall integrity of your roofing structure will be compromised.
What Are Fascias?
Fascias are usually mounted to the edges that are exposed in your rafters.
These were made from wood in the past, but as new materials were formulated, they were converted to uPVC. This prevents them from rotting too soon.
Fascias were always used to add another layer of protection to your roof by sealing it. Hence, the interiors were kept safe from the harsh elements.
Fascias were also used to support the roofing tiles that needed to be at the eaves level. They were even used as a support mechanism for guttering. Additionally, they are also used for hiding the rafters and beautifying the area even more.
What Is Guttering?
From a simple point of view, guttering is used to collect rainwater and acts as a medium for it to flow into your drains.
Gutterings are placed and fixed with suitable "falls" to ensure that the water doesn't pool. In the rare event that water pools in the gutters, it will lead to severe overflowing and other issues.
Roofline Parts
The following are the main roofline parts that exist on your roofing structure:
Bargeboard
Bargeboards are used as a form of decoration that is attached to the gable. It seals the verge and the rafters at the end.
Birdcomb
These are installed only when needed and are used to prevent nesting. They successfully block off all of the voids that exist between the fascias edge and the tiles.
Box end
The box end forms a crucial link between your bargeboard and the fascia on the ends of the gable. It is also used to over trims while keeping the overall appearance of your roof professional and neat. Additionally, it prevents the roofline from becoming moist and unsecured.
Downpipe
The downpipe is used as a conduit between the drains and the gutters. However, it should be properly attached to the brickwork to ensure that it is secured in place.
Dry Verge
To protect the verge of your roofing system above the bargeboard, dry verges are installed on the gable.
Fascia Boards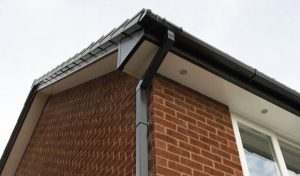 The fascia boards on your roof are there as a means of sealing and protecting the rafter feet. This is needed since it prevents it from rotting and the damages spreading to your roof. Additionally, it acts as a means of support for the guttering and serves as a fixing point.
Guttering
The gutters are essential for collecting and discharging rainwater.
However, all the gutters around the house should be aligned and levelled. This ensures that pooling doesn't occur and that the water runs off in the correct area.
Roofguard Eaves Protector
The roofguard eaves protector is installed at the bottom of the roofing tiles. It offers protection to the bottom end felt of the roofing system and goes into the guttering via a curve. However, it prevents the incoming rainwater from going behind the guttering and the fascia board.
Soffit Boards
The soffit boards can be found on the roofline's underside and do an exceptional job of protecting the rafter feet's underside. The soffit is relatively lightweight, and its polished surface is used as a sealing mechanism against water.
Sprockets
These are constructed to ensure that they are secured onto the rafter feet. After this is done, it provides a fixed point to mount the soffit and the fascia in place.
As long as they are aligned and levelled, the sprockets keep the fascia in place for many years to come.
Ventilation
In some instances, vents are fixed on the top of the fascia board. They can also be easily cut into the soffit. However, the choice is dependent on the budget as well as the neater option. Ventilation is vital since it prevents moisture.
What Is The Part Under A Gutter Called?
The soffit is the proper name given to the horizontal section under the gutter. The soffit board is usually fitted very snug into the space and serves to protect the rafter feet.
If you're still wondering why this is done, let's clear that up. The rafter feet requires enough protection from harsh weather conditions to secure the inner workings of the roof.
There is also a vertical section under the gutter that is better known as the downpipe. When these pipes are properly aligned, they ensure that rain and other debris are transported successfully to the ground. The downpipes are also termed drain spout, downspouts, leader, or the roof drain pipe.
What Are the Common Problems with Fascias and Soffits?
When your fascias and soffits are installed improperly, or they're worn and old, they must be replaced at some point to continue protecting your roofing system. The following are some of the most common signs of damage:
Flaking and Peeling Paint
If you notice either peeling or flaking areas, you can easily have this repaired by simply sanding and then repainting the area. If quick action is taken, it will prevent damages from worsening as time goes. However, this is one task that will need to be repeated each year since wooden soffits and fascias peel and flake all the time.
Rot and Damp
If ever you should notice sections that are damp or rotting on your roofline, you'll need a thorough roofing inspection. Whenever these spots appear, they will spread very quickly and cause a ton of damages and expenses. So, if you happen to notice this, be sure to have it replaced.
Leaking Gutters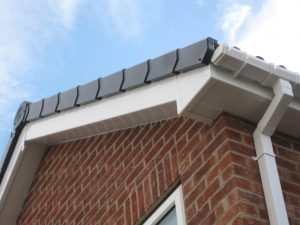 When you leave your gutters without cleaning them out, they will develop leaks. Leaves, balls and other items and debris will clog your gutters during heavy rainfall. In the colder months, the water will start freezing over and damaging the guttering.
Besides those listed above, several additional issues can occur. The following are other reasons that could result in your guttering requiring replacement:
Asbestos
If you live in a modern home or built in the 2000s, you don't need to worry about asbestos. However, if your home was built before the 90s, then you need to be on the lookout for asbestos products.
In the past, asbestos was used as a mechanism to stop fires. Even though there were good intentions, it was still very harmful and caused many respiratory issues.
Infestations
No matter where you live, you're bound to have an infestation at some point. Pests tend to seek damp spaces, and your rotting fascias are perfect for them. If you don't pay enough attention to your home, soon you'll have uninvited guests.
Birds Nests
Birds tend to look for high spaces to make their nests, and what better place to do so than in your chimneys and rafters.
While you're looking for a solution, it's best to keep in mind that a larger number of birds are actually protected. So, take extra care when attempting to move them. If you're unsure about anything, it's a good idea to look out for expert advice on this matter.
What Is Involved When Installing and Fitting or Replacing Roofline Products?
If you're interested in replacing or installing fascias, soffits and guttering, it's best to leave this to a professional roofing company. Before certain tasks on your roof can be carried out, your entire roof needs to be inspected. A professional roofing company comes adequately equipped to ensure that they do a safe and effective job.
The following serves as a small explanation of how these tasks are accomplished:
To begin the process, the end tiles on your roof must be removed, and the rafters need to undergo inspection.
If your roof is in great condition, your roofing contractor will attach sprockets to the rafter and then position the soffit in place. By using this technique, the finished product will be professional and smart.
When the fascia and soffits are installed, the ventilation and guttering will be installed. So, if your roof already has profiled tiles, there's no need for bid combs.
After installing the bargeboards and soffit on the gable ends, box ends are made to fit the site. However, they must be properly measured so that gaps are not left.
While it may sound like an easy task, this is not a DIY process. Performing this installation on your own can leave you finding asbestos or even injuring yourself.
When you hire a professional company's services, you never have to worry about taking these risks for yourself. Please read our guide to choosing the best fascias and soffit installers.
How Do I Choose The Best Style Of Roofline Product For My Home?
In the past, timber products used to be installed on your roofing system. However, since new materials were invented, they are now being used instead. As such, uPVC is used instead of timber and requires a lot less maintenance. UPVC offers homeowners the option of different styles, effects and colours.
If your property is a bit older and you want to maintain the look, you can even get a specially made woodgrain finish. Modernized guttering also now comes in an array of sizes and shapes to suit your design.
How Much Do New Fascias, Soffits And Guttering Cost?
To determine the cost of fascias and soffits, you'll need to look at the overall size of your home. However, both are a huge benefit to your home since they not only increase the value of your home, but they make it even more beautiful.
If your home is semi-detached, you can expect to pay anywhere between £1200 and £1500 to replace uPVC fascia boards and soffits.
If your home is larger the process will take longer and cost around £3000 or more depending on market prices. However, most contractors quote at least £100/m2 of roofline.
Conclusion
As we conclude, we have just looked at the ultimate soffits, fascias and guttering guide. Soffits, fascias and guttering have their own purpose in your roofing system. In essence, they work together. So, if ever you notice damages or even damp spots on your roofline, it's best to get a full inspection before more problems occur.