When you have decided to replace your home's fascia and soffit, knowing the specialist to pick for the job can be challenging. It does not matter whether you are looking for local fitters, or a larger national company, there are key things to consider to ensure you pick installers you can trust to work on your property. In this post, we are going to cover what you should expect and what to look out for when hiring installers of fascias and soffits.
But before we get into that, what are fascias and soffits?
The fascia is the long straight board that runs through the lower edge of your roof. It is fixed directly to the lower ends of roof trusses and plays the role of supporting the lower edge of the tiles in the bottom row. The fascia ideally supports all the guttering.
The soffit sits below the fascia and it's the board that's most visible from street level. It can be ventilated in order to allow the flow of air into the roof region.
Now that you know the role of the fascia and soffit, how do you ensure you pick the best installers?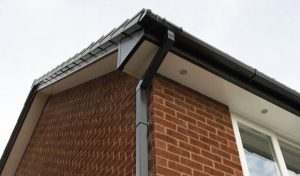 Both small and big companies can provide a good standard, but while working, it can be a hit or miss in regards to the workmanship standard you get. Some installers just do not care enough or do not have sufficient training to provide a uniform service. The same is true for one man fitters who operate in vans. You will either get outstanding results or sub-par service, hoping that they will return to finish the job.
One thing we can tell you is that all competent fascia and soffit installers will go up a ladder, assess and show you evidence of the inspection and even take samples of any material they think would be asbestos. If a company does not do the basics, you can't expect them to do a thorough job when it comes to the actual installation.
To ensure you are dealing with competent installers, here are some important questions to ask:
What Fixings Do You Utilise?
A fascia and soffit installer worth their salt knows that they should only utilise ring shank nails for the task- usually referred to as poly top pins. Even though there are 3 sizes available, the 65mm type is usually the best for the job. Anything less than 50mm shouldn't be used and you shouldn't trust any fitter using them.
What Do You Fix Them To?
This is a question with various correct answers, but what you are looking for is their experience and depth of knowledge. It is acceptable to attach a fascia board to rafter legs if they're entirely straight and don't have any issues. However, if they are damaged and crooked, the fitters need to screw some plastic bracing to give a high-strength fixing. This will straighten the fascia board and also provide a robust fixing area for the soffit as well.
Have You Worked on This Kind of House Before?
Before picking a fascia and soffit contractor, it is important to check their suitability as well as the quality of work. Looking at any photographs they have will enable you to do this. You should look for a "box end" finish that includes a section of plastic that's designed for the job in hand. It shouldn't be finished using off-cuts and should not have any gaps. It should ideally be at a 90-degree angle.
Are You Properly Insured?
Public liability insurance is there to protect the fitters against personal injury or property damage that may happen as they go about their work. Any fascia and soffit installer without this kind of policy is leaving themselves open to all kinds of problems. Ensure you ask proof of public liability insurance and if the answer is not, stay well clear.
Will You Utilise Scaffolding? If So, What Kind?
Experienced fitters are more likely to utilise their own work platforms to do the task, as it helps minimise the costs. If a full scaffold is needed due to difficult or awkward access, know that this will substantially increase the costs. As such, it's advisable to always inquire about this as it will put the quoted price into context and enable you to compare the various fitters' quotes on a like for like basis.
Is The Quote an Estimate or Fixed-Price Quote?
This is one of the most important questions when it comes to hiring home improvement contractors. Fixed-price quotes have to be honoured. However, that's not the case with estimates as they are subject to change. Of course, you do not want to get to the end of the installation and discover there is 30% more to pay than the initial estimate. When inquiring about money, also check whether value-added tax is included in the quote. If not, ensure you factor another 20% in your fascia and soffit installation budget.
These are the most important things to keep in mind when picking the best fascia and soffit installers. Hopefully, this guide will help you make an informed decision.